Useful Links:
Cockerham Juniors Lancs. Sunday League West Lancs League ADAM Appeal Adam's Page

Garstang Football Club are affiliated to and members of Garstang Sports Club
LATEST NEWS
04.10.15
RESULTS
GARSTANG 1-1 CROOKLANDS CASUALS (Breslin)
HURST GREEN RES 3-1 GARSTANG RES (Jack)
GARSTANG YTH 1-5 POULTON YTH (BEVAN pen)
---
02.10.15
MATCH PREVIEWS
Saturday 3rd October
West Lancs Premier League

GARSTANG v CROOKLANDS CASUALS KO 3PM
After back to back wins over Lostock St Gerards and Southport Hesketh, Garstang welcome Crooklands Casuals to the Riverside on Saturday. Whilst the Cumbrians have only won one game so far this season they had a creditable draw at Slyne last week.
"There are no easy games in what is a very competitive league" said Manager Neil Crossley. "We had to dig deep last week against a very good team who sit in the bottom half of the table and had to thank our defence in particular and another excellent performance by Dan Curwen in goal. But its not all about pretty football there are times its about grit and determination and last Saturday we had that in abundance"
Neil went on to report that Liam Breslin is a doubt for Saturday although he was able to train last night. Back in the squad is Jack Swindlehurst after "benching" for Bamber Bridge in their F.A.Cup win over Skemersdale United, otherwise it will be the same fifteen players who defeated Southport Hesketh.
West Lancs Reserve Div 1
HURST GREEN RES v GARSTANG RES KO 3PM
The Reserves travel to Hurst Green having seen their recent good run come to an end in unfortunate circumstances at Coppull last weekend.
Captain Andy Ireland is a doubt plus Shepherd and Hay are unavailable. Phil Roskell, however, is back in the frame.
Manager, Paul Bailey, said "Very unlucky last week, going down to 10 men early on puts the game plan straight out of the window! Need to get back to winning ways this weekend."
Sunday 4th October
LSL Youth Div Blue
GARSTANG v POULTON KO 11AM
The youth team welcome Poulton to The Riverside on Sunday morning, returning to league action after last week's disappointing exit from the Lancashire Cup. Although Carter and Smith missed training with minor niggles it is expected the full squad will be available for the first time this season.
Poulton have had a great start to the season winning their first four games so a good game is anticipated.
Youth Manager, Dave Porter commented "After a disappointing result on Sunday where we didn't get out of 2nd gear but still made some half chances, I am hoping the lads are starting to learn how to play a certain style at certain times in a game. Its not that we didn't work hard but we switched off for small periods and always seem to get punished. I hope we can put this right on Sunday and what I would like is a clean sheet."
---
28.09.15
MATCH SPONSORS
Dick Gudgeon presents Dan Curwen with his Man of the Match award from the game against Southport Hesketh sponsored by Carr Billington.
Garstang FC Reserves Collinsons Man of the Match Marc Armstrong (left)
---
27.09.15
RESULT
TURTON U18 1-0 GARSTANG U18
---
26.09.15
RESULTS
GARSTANG 2-1 SOUTHPORT HESKETH (Louth, Graham)
COPPULL UTD RES 2-0 GARSTANG RES
---
25.09.15
GARSTANG FOOTBALL CLUB: "SCORE" LOTTERY WINNERS for SEPTEMBER
3471: £1000 – Andrea Jarvis, Barnacre
3766: £100 - David Maclachlan, Garstang
1551: £60 - David Porter, c/o Garstang F.C.
3172: £60 - Jeanette Coggin, Garstang
2759: £60 - Hazel Corless, Garstang
4019: £25 - Dianne Clarke, Catterall
1447: £25 - Stuart Hayton, Garstang
1368: £25 - Mr. D. Fairclough, Catterall
1524: £25 - Chris Burn, Goosnargh
---
24.09.15
MATCH PREVIEWS
Saturday 26th September
West Lancs Premier League
GARSTANG v SOUTHPORT HESKETH ko 3PM
Buoyed by our first away points of the season at Lostock, Garstang Boss Neil (Crossley) will be hoping to "kick on" when Southport Hesketh visit the Riverside this weekend.
Neil said, "It was good to pick up the points at Lostock, I know that they hadn't yet won a game but it was never going to be a "gimme" bearing in mind our away form. We went a goal down after 9 minutes but the goal didn't dent our confidence. I left out Andy "T" and Tom Graham but both are cracking lads and responded well when they came on, Tom scoring a goal with a quality strike. I experimented with the shape of the team and in the main it worked"
Adam Roskell and "Gaz" Fawcett return to the squad on Saturday. Adam was unavailable last week, as was "Gaz" who has missed the last three games through injury.
Neil added "Looking at Southport Hesketh who lie eleventh in the League with ten points, having won just once away from home out of five games although a win for them would put them on the same number of points as ourselves but I'm sure that we will be doing everything we can to make sure that doesn't happen."
West Lancs Res Div 1
COPPULL UTD RES v GARSTANG RES ko 3PM
The Reserves travel to top of the table Coppull Utd in what should be the division's game of the weekend. Phil Roskell and Dave Porter are unavailable but there should be a strong squad to select from this weekend as the first team are pretty much up to full strength.
Manager, Paul Bailey, said "It was a good team performance last week with three well taken goals and a clean sheet. It's a big game on Saturday but we are full of confidence and looking forward to it."
Sunday 27th September
Lancashire Cup U18 2nd round
TURTON v GARSTANG ko 11AM
The youth team head off to Bolton in the Lancashire Cup on the back of a good win last weekend at Kirkham. Roberts is the only player not available otherwise a full squad to choose from.
Assistant Manager, Dave Graham, said "A good result for us last week and the team is starting to take shape. It's always interesting to head off to new venues to play games and the facilities at Turton will be excellent for the lads to play in. With a good squad to pick from hopefully we can give a good account of ourselves."
---
23.09.15
LOTTERY WINNER
Gary Nicholson was the lucky £1000 winner for August in Garstang Football Club's successful "Score" Lottery Draw which takes place on the last Friday of every month. Gary is seen in the picture picking up his cheque from the Promoter of the Lottery Les Taylor.
If you would like to join the "Score" Lottery all you have to do is ring Les on 07979 235 217 and he will post off a members application form.
MAN OF THE MATCH
Joe Miller, last Saturday's Reserve man of the match with Charlie Collinson
---
20.09.15
RESULTS
LOSTOCK ST GERARDS 1-3 GARSTANG (A Matichecchia, Bell, Graham)
GARSTANG RES 3-0 TEMPEST UTD (Panepinto 3)
KIRKHAM BLUES 2-10 GARSTANG YTH (Clark 3, Smith 2, Marshall 2, Roberts, Hofstetter, Bevan)
---
18.09.15
MATCH PREVIEWS
Saturday 19th September
West Lancs Premier League
LOSTOCK ST. GERARDS v GARSTANG K.O. 3pm
Manager, Neil Crossley, isn't expecting an easy ride at bottom of the table Lostock on Saturday. "Players have returned to the fold and they are fast improving. We shall have to be at or best."
Adam Roskell is unavailable and skipper Gaz Fawcett hasn't recovered from his injury. Kyle Lewis returns but don't be surprised if the manager shufles the pack in personnel and team shape. Neil said "There were 37 players at training on Wednesday and that pleases me. I only want players who want to be here. There is a true saying in football that we win together and we lose together. Confidence ia a little low at the moment but a win will soon lift morale. On another day we would have won at Ladybridge and we would all have been feeling a little different. We have a good group of lads who all want to do well. A full squad is good enough to compete in the West Lans Prem but I am mindful for us to challenge the top teams we need to bring in 2 or 3 players."
---
West Lancs Reserve Division 1
GARSTANG RES v TEMPEST UTD RES K.O. 3pm
The reserves take on a Tempest team who have had a tough start to the season. Cardwell has recovered from a knock picked up in last Saturday's game and Dave Jack returns to the fold. Swindlehurst is going with the first team whilst Roberts continues his recovery from injury back with the reserves.
Manager, Paul Bailey said "Again we were better last week, looking fitter and sharper. Still making a few errors but definitely getting closer to where we want to be. Tempest haven't made a great start but it is never easy against them."
---
Sunday 20th September
LSL Youth Div Blue
KIRKHAM BLUE v GARSTANG K.O. 11am
The youth team take on Kirkham without Owen Rimmer and with Hands and Bevan both doubtful.
Youth team manager, Dave Porter, commented "Pleased with the work rate and commitment shown last Sunday. We were up against a top team who will be in the top 3 at the end of the season. Saying that we have to learn how to slow teams down and change the pace of the game to suit us and for us to do our own jobs when we haven't got the ball." He went on to say, "Concentration, work rate and ability are all key to winning games and we aren't far away. Kirkham this Sunday will be our next test but I'm sure that if the lads put in the same effort we will get the result."
---
14.09.15
---
13.09.15
RESULTS
LYTHAM TOWN YTH 3-1 GARSTANG YTH (Clark)
GARSTANG VETS 2-5 CHORLEY CIVIL SERVICE VETS (Salthouse 2)
---
12.09.15
JACK CARDWELL!
Above is a picture of our latest signing Jack CARDWELL not Cordwell as I've been calling him. Mr Cardwell has made a great start to his Garstang career scoring the first goal today in a 4-1 win against his old club Lostock. Let's hope we are talking more about this young man in the not too distant future.
---
RESULTS
LADYBRIDGE 3-1 GARSTANG (Louth)
GARSTANG RES 4-1 LOSTOCK ST GERARDS RES (Cardwell, Swindlehurst 2 (1 pen), Sutcliff)
---
10.09.15
MATCH PREVIEWS
Saturday 12th September
Lancs FA Amateur Shield Rd 1
LADYBRIDGE v GARSTANG KO 2.30PM
Garstang travel to Bolton to take on Division 1 leaders Ladybridge on their 3G pitch in the first round of the cup. Gaz Fawcett did some light training on Wednesday but is still a week or two away from a return to action. Danny McGahon and Gaz Louth are also on the mend but again this game may be too early for them.
Everyone at Garstang F.C. will be hoping that a break from League action will bring about a change in fortunes when playing away from home.
Having lost all four away League games Manager Neil Crossley will not be treating Division 1 Ladybridge lightly. "It will not be easy", said Neil. "It is unchartered territory for all of us. I wasn't happy on Saturday, too many of our established players are under performing and I've told them that. I can only be loyal to players for so long before things have to change. There is no reason to panic although there will be changes on Saturday. Aron Jones will be rewarded for his patience so will start, unfortunately "Gaz" Fawcett needs another week so that is one less option. Whoever gets a shirt must give me 100% commitment, the rest will follow"
Two unnamed Clubs have put 7 days notice of approach for one of our players. The Manager said that the approaches are "unwelcome" but are understandable when you have good players.
West Lancs Reserve Div 1
GARSTANG RES v LOSTOCK ST GERARDS RES KO 3PM
The Reserves have another home game this time against Lostock. Manager, Paul Bailey, was pleased with the second half performance last week if not the first. He said "We just kept ourselves in it until half time and then attacked and defended superbly in the second half." "Bails" was pleased with the performance of new signing Jack Cordwell saying "Jack played well and I think there is a lot more to come from him as he settles in."
Sunday 13th September
Syndicate Youth Cup Rd 1
LYTHAM TOWN YTH v GARSTANG YTH KO 11AM
The youth team face an unknown entity at Lytham in the first round of the league cup.
Manager, Dave Porter, commented "No idea what to expect from Lytham but we are concentrating on our own system and style. We will work hard and try to keep our discipline as regards our shape." He went on to say "We know we can score goals and we have a strong squad who are still learning what I want from them but I am optimistic for the season. We are introducing a different aspect of football through our training and it will not happen over night but player development is the ultimate aim. Time will tell."
Veterans Friendly
Garstang FC Vets v Chorley Civil Service Vets ko 11am

The veterans start their fixtures at the Riverside against strong opposition who comfortably beat them last season. Parky has desperately been trying to resolve his keeper crisis during the week as his usual options are all unavailable for a variety of reasons. His hard work has paid off as Paul Southward has agreed to don the gloves and step in the breach. Parky feels that he has a strong squad capable of matching the tough opponents. So if you are at a loose end on Sunday get yourselves down to the Riverside at 11am and cheer the old ones on.
---
09.09.15
BELATED WEDDING WISHES
A great picture of groom Carlo Matichecchia and his many "best men" at his recent wedding on the Greek Isle of Kephalonia. A brilliant but very hot time was had by all and by now the new Mrs M should have mastered her new signature! A word of warning to any current players thinking of following suit all future weddings must be in July as the season starts in August!
---
06.09.15
RESULT
GARSTANG YTH 4-1 NORTHGATE (Carter, Bevan, Clark, Smith)
YOUTH SPONSOR
Bill Bamber from Bamber Plumbing and Heating, who entered a joint sponsorship of the youth team with Preston Plastics, attended today's game to see the unveiling of the new home kit. The club are very grateful to Bill and all our sponsors and the kit looked great.
---
05.09.15
RESULTS
SLYNE WITH HEST 3-1 GARSTANG (Breslin)
GARSTANG RES 3-1 BURSCOUGH RICHMOND RES (L Assalone 2, Panepinto)
---
03.09.15
MATCH PREVIEWS
Saturday 5th September
West Lancs Premier League
SLYNE with HEST v GARSTANG KO 3PM
The first team travel to Slyne for the return derby fixture of only two weeks ago. The game at Garstang was an absorbing contest which saw The Riversiders win 1-0. Garstang will not be making too many changes from last week with Louth and Fawcett still out injured and Crook unavailable.
Manager, Neil Crossley, commented "It was a good performance last Saturday apart from 8 minutes when we conceded two goals. The players that came in did well which shows we now have strength in depth we haven't had before." He went on to say "The defeat we inflicted on Slyne two weeks ago means nothing now. It's a derby and both teams will be up for it."
West Lancs Reserve Div 1
GARSTANG RES v BURSCOUGH RICHMOND RES KO 3PM
The reserves take on new boys Burscough at The Riverside. The visitors have had a decent start to the season and sit one place and one point above Garstang. Miller, Chris Walker and skipper Ireland are all unavailable.
Reserve Manager, "Bails" said " Last Saturday's first half performance was very poor but in the second half we showed exactly what we are capable off and could have scored even more goals. The defending also improved dramatically." He added "We will have new signing Jack Cordwell available and he has looked very good in training so looking forward to seeing him in action. I am not sure what to expect from Burscough as they are an unknown entity but we are starting to get back to form and hopefully we can secure 3 points."
Sunday 6th September
LSL Youth Blue
GARSTANG YTH v NORTHGATE YTH KO 11AM
The youth team get their season under way at The Riverside on Sunday morning with the visit of Northgate from Morecambe. It will be a first meeting between the two clubs so no-one knows what to expect. Hands and Roberts are both out injured but the rest of the squad is available.
Manager, Dave Porter, said "Can't wait to get the season started. We had a good session at training this week working on our shape and now it's time to put it into practice. This is the first game we have had most of the squad available as pre season has been blighted by holidays and work so it will be interesting to see where we are at."
---
02.09.15
IN MEMORIAM - ADAM "JAGS" SWANWICK
It's 3 years since the sad and tragic loss of Adam and all at Garstang Football Club would like his family and friends to know that they are in our thoughts and prayers.
---
31.08.15
MATCH SPONSOR
Match sponsor for Saturday's game against Hesketh Bank was Elite Motors of Garstang. Gary Timmins from Elite is pictured above with Garstang FC manager, Neil Crossley.
---
30.08.15
PIC OF THE WEEK
Somehow between Dan's fingertips and Connor's head they kept this out!
---
29.08.15
RESULTS
GARSTANG 4-2 HESKETH BANK (Landless, Breslin 2, Hay)
LEYLAND UTD RES 2-6 GARSTANG RES (Panepinto, Porter, Swindlehurst 2 pens, Sutcliff, Smith)
---
28.08.15
MATCH PREVIEWS
Saturday 29th August
West Lancs Premier League

GARSTANG v HESKETH BANK KO 3PM
We were all flying last Wednesday following the win over Slyne but the gloss was soon taken off our promising start to the season with defeats on the Fylde Coast at Thornton Cleveleys and Blackpool Wren Rovers. We were on the rack in the first half of both games but came to in the second period and on another day could have taken points out of both games.
A special mention for Dan Curwen who has come in and done an exceptional job between the posts.
Neil's (Crossley) job has been made even more difficult on Saturday with the unavailability of players. "Belly" and "Birchy" who are both away, Skipper Gaz Fawcett picked up a bad injury on Tuesday, add them to the already injured Gary Louth and Danny McGahon and you can see what I mean.
It is likely that the Matichecchia brothers will be added to the squad plus one more.
Neil said, "It's been tough to take but its a long season. I've said before, we've a good bunch of lads who are working hard but at the same time they have to live up to my expectations. If I've to make changes I will. My job is to win football matches for this club and when I don't, I'm not happy."
Hesketh Bank got off to a good start this season but having lost three home games in a week the pressure is on both sides to get back to winning ways.
West Lancs Reserve Div 1
LEYLAND UTD RES v GARSTANG RES KO 3PM
The Reserves travel to Leyland with neither side having made the best of starts. Garstang are showing signs of getting back to form but need to start picking up points if they are going to challenge the top end of the table.
Adam Leigh is unavailable and Cal Spence is going to be out for months following the horror challenge on him last week against Wrens. Walker and Bailey should be back and we may need to dip into the youth team squad again.
"Bails" said "Although we were a lot better last week we are still making too many silly mistakes. Fitness wise, we are getting there, the lads put in a hard session on Wednesday, but there is still room for improvement. Leyland won't be easy but I am aiming to come away with the 3 points."
---
GARSTANG F. C. "SCORE" LOTTERY WINNERS for AUGUST
3377: £1000 -- Mr. G. Nicholson, Cabus
3559: £100 -- Winnie Swanwick, Garstang
4204: £60 -- T.H.Kay, Cabus
1731: £60 -- Michael Murphy, Garstang
3213: £60 -- Dorothy Taylor, Garstang
2326: £25 -- Sandra Mossop, Garstang
1787: £25 -- Mrs. Janette Yates, Barton
1127: £25 -- Neal Redfearn, Garstang
3835: £25 -- Peter Beatson, Bowgreave
---
27.08.15
INJURY NEWS
Garstang FC skipper, Gaz Fawcett, pictured above, picked up an injury to his foot playing against Blackpool Wren Rovers on Tuesday night which could keep him out of action for 6 weeks.
---
25.08.15
RESULT
Balckpool Wren Rovers 2-1 Garstang (Landless pen)
---
24.08.15
MATCH PREVIEW
Blackpool Wren Rovers v Garstang Tuesday 25th August K.O. 7:00pm.
Manager Neil Crossley (and everyone else for that matter) will be hoping that the roller coaster start to the season takes the upward track at Blackpool on Tuesday night.
Neil tells me that he had a go at the lads at half time on Saturday after a lack lustre first half. "They did respond and on another day we would have got something out of the game" said Neil. "Carlo isn't available on Tuesday night so Alex Hay will come into the squad. We need to be a tighter unit away from home so I'm considering tinkering with both the personnel and the shape of the team."
He added "There is no need to panic but we do need consistency in our play. We must start well, the lads know what I want. It has been an hectic month but it has been the same for the other clubs. I've a good bunch of lads who will all pull together."
---
22.08.15
RESULTS
THORNTON CLEVELEYS 2-0 GARSTANG
GARSTANG RES 2-2 HESKETH BANK RES (A Matichecchia, L Assalone)
---
21.08.15
MATCH PREVIEWS
Saturday 22nd August
West Lancs Premier League

THORNTON CLEVELEYS v GARSTANG KO 3PM
For me, the truest saying in football is "You are only as good as your last game" and how evident was that last week? On Saturday we're all down and disappointed with the performance and defeat at Fulwood only to be lifted back on to "cloud nine" following Wednesday's fine 1–0 win over close rivals Slyne with Hest.
From the Chairman and Committee's point of view, it just wasn't about the great result but the satisfaction of seeing The Riverside ground in such good condition, under floodlights and with a healthy 166 crowd and on not a very pleasant evening all captured on camera by our old friend Ian Blezard. A VERY PROUD NIGHT FOR EVERYONE INVOLVED!
A buoyant manager, Neil Crossley said, "There was no hangover from Saturday, the lads sensed the importance of the game and in truth were well up for it. The secret is making sure we are up for every single game. For Saturday, Gaz Louth has picked up another injury so there will be one enforced change to the starting line up. On the plus side, Joe Crook who missed Wednesday's game through injury is fit again and comes into contention. Aron Jones is unavailable. I will have decisions to make on who starts, who makes the bench and who perhaps needs 90 minutes with the Reserves"
West Lancs Reserve Div 1
GARSTANG RES v HESKETH BANK RES KO 3PM
The Reserves return to The Riverside hoping to put Monday's disappointing result against Wrens behind them. However, the task will not be easy as they take on newly promoted Hesketh Bank who have got off to a flier and are undefeated in their first four games so far this season.
Definately out for the game are Sutcliff, Walker, Spence and Roberts. On the plus side Adam Leigh should be back and Jack Clark has been called up from the youth team.
Manager, Paul Bailey said "Monday was not a true reflection of what we are capable of but it does show where we are and a lack of fitness is a big problem which we are trying to address." He continued "I am very much looking forward to this weekend's game where we have a chance to put things right although again this will be a tough match."
---
20.08.15
MATCH SPONSOR
Mick Hoyle from Squires Snooker Club (pictured above with Garstang FC manager Neil Crossley) kindly sponsored last nights game against Slyne with Hest. Mick had an enjoyable evening catching up with old friends from both clubs and even won the football card although it took him a while to get the money!
---
19.08.15
RESULT
GARSTANG 1-0 SLYNE WITH HEST (Breslin)
---
17.08.15
RESULT
GARSTANG RES 1 v 4 BLACKPOOL WREN ROVERS RES (Swindlehurst)
MATCH PREVIEW
GARSTANG v SLYNE with HEST Wednesday 19th August Kick Off 7 pm.
Although bitterly disappointed by the 2–0 reverse at Fulwood on Saturday Manager Neil Crossley wasn't prepared to dwell on the defeat suffice to say, "Too many players were "off it" and credit where credits due Fulwood are a decent side and deserved their victory. But win, draw or lose, the result will have little bearing on the Slyne game. They have had two good results after an opening day defeat."
He went on to say "There is always a good atmosphere for this fixture but you still only pick up three points for winning, that's what is important not the so called bragging rights"
The squad will likely be the same but there may be a change to the starting line up.
---
16.08.15
MATCH PREVIEW
Monday 17th August
GARSTANG RES v BLACKPOOL WREN ROVERS RES KO 7PM
Last season Champions , Garstang, take on the runners up Wrens at The Riverside tomorrow. Neither team has got off to the best of starts this term but we did manage to get our first win yesterday against Haslingden. There should be no shortage of players with Swindlehurst, Walker and Jack available in addition to Saturday's squad.
Manager Bailey said "Wrens are always there or thereabouts so it will be a good test for us. I was disappointed with yesterday's performance we were sloppy with the ball and didn't work hard enough off it but we did pick up the 3 points and we can play a lot better than that."
---
15.08.15
RESULTS
FULWOOD AMATEURS 2 v 0 GARSTANG
GARSTANG RES 3 v 2 HASLINGDEN ST MARYS RES (Leigh, Panepinto, C Matichecchia)
---
14.08.15
MATCH SPONSOR
Match sponsor for the visit of Lostock St Gerards was our old chum Geoff Hargreaves with his friend Enid Iddon accompanied by Trixie the dog. Geoff is a fantastic supporter of the club and Enid seemed to enjoy her day especially the cheeky kiss from man of the match Max Landless!
---
13.08.15
MATCH PREVIEWS
Saturday 15th August
West Lancs Premier League
FULWOOD AMATEURS v GARSTANG KO 3PM
Garstang will go into Saturday's game "full of confidence" according to Manager Neil Crossley.
"With respect to Lostock, Fulwood have got off to a good start so will be a different proposition but my main emphasis is on my own team and I'm pleased to say that the mood in the camp is as high as at any time since my arrival. There is a certain togetherness that will enable us to compete with the usual frontrunners, I can now see a dressing room full of good players and that pleases me. I watched Fulwood at Longridge last Tuesday night and as you would expect under Tony Hesketh they were very well organised. Already we are playing "big games" but I can't wait for them to come round"
The team news is that Dan Curwen will continue, after a good performance in goal and Gary Louth will return to the squad following illness.
It is interesting to note that a crowd in excess of 150 attended the Longridge Town v Fulwood Amateurs game on Tuesday evening then on Wednesday committee member, Dick Gudgeon, counted 124 supporters down at the Riverside for the visit of Lostock, making me believe that this is going to be a bumper season for West Lancashire League Football.
West Lancs Reserve Div 1
GARSTANG RES V HASLINGDEN ST MARYS RES KO 3PM
The Reserves play there first home game of the season this Saturday with the visit of Haslingden.
Manager Bailey commented "We should have a decent squad but Dave Jack, Jack Swindlehurst and Chris Walker are not available. I will find out if any of the first team squad need a game tomorrow."
Speaking about Mondays game at Thornton "Bails" added "I was happy with the performance apart from the last 10 minutes when lack of fitness let us down. The attitude was first class though."
---
12.08.15
RESULT
GARSTANG 7 v 1 LOSTOCK ST GERARDS (Landless 4, Fawcett, Breslin, Taylor)
---
11.08.15
MATCH PREVIEW
GARSTANG v LOSTOCK ST GERARDS: Wednesday 12th August 2015 KO 7pm.
Manager Neil Crossley was still very upbeat despite being held to a 1 – 1 draw against Eagley on Saturday.
The general feeling amongst the crowd was positive some supporters describing the quality of football as "the best seen at the Riverside for some time."
Neil said, "We could have won the game comfortably had we have taken our chances but I won't be too critical, that will come. We played some great stuff, our possession was first class and the new lads settled in well"
Club Skipper Gaz Fawcett and Dre Matichecchia will be added to an otherwise unchanged squad.
---
10.08.15
RESULT
THORNTON CLEVELEYS RES 3 v 3 GARSTANG RES (Sutcliff, Panepinto. Leigh pen)
MATCH PREVIEW
Tonight's reserve game at Thornton Cleveleys sees the return of A Matichechia, Swindlehurst, Panepinto, P Roskell, C Matichechia, Southward and Curwen. Following last Saturday's unprecedented shortage of players for a match this will come as a relief to the management team.
Manager, Paul Bailey, commented "The lads who turned out for us against Fulwood ran themselves into the ground and I can't praise their efforts enough. It's always a difficult task at Thornton but with some fresh legs and the same level of commitment I got on Saturday we should get something out of the game."
MATCH SPONSOR
Saturday's Match Sponsor, Malcolm Abraham of Citrosoft Drinks Ltd with Garstang FC manager Neil Crossley
---
09.08.15
UPCOMING FIXTURES
Monday 10th August
West Lancs Reserve Div 1
THORNTON CLEVELEYS RES v GARSTANG RES KO 6.45PM
Wednesday 12th August
West Lancs Premier League
GARSTANG v LOSTOCK ST GERARDS KO 7PM
---
08.08.15
RESULTS
GARSTANG 1 v 1 EAGLEY (Landless)
FULWOOD AMATEURS RES 2 v 0 GARSTANG RES
This picture of Belly sums up Garstang's day as yet another chance goes agonisingly wide.
---
07.08.15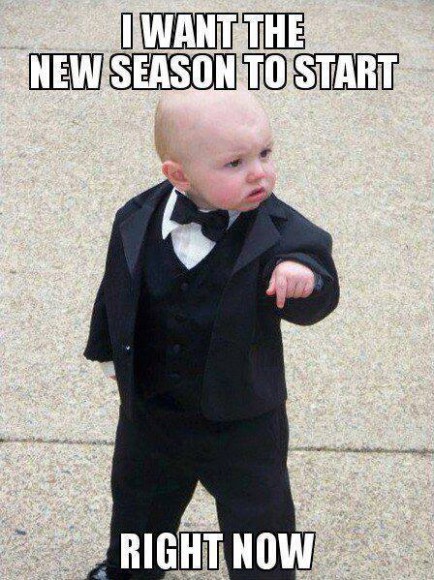 Tomorrow is the big kick off. Forget the Premier League, The Riverside is where its at. Get down there and support your local team.
---
02.08.15
HERE WE GO AGAIN....
UPCOMING FIXTURES
Saturday 8th August
West Lancs Premier League
GARSTANG v EAGLEY KO 3PM
The new season kicks off this Saturday at The Riverside with the visit of Eagley. The visitors struggled for much of last season but have had a decent pre-season and with ex PNE player Simon Whaley at the reins bringing in some new faces they will be hoping for better things this campaign.
Garstang have performed well in recent friendlies and with the usual pre-season problems of players being away Manager, Neil Crossley, has had the chance to have a look at some of the reserves, youth and one or two other players, none of which have done their chances any harm.
New signings Landless and Breslin have settled into the club quickly and both have been hitting the back of the net regularly in what looks like an exciting strike partnership. With The Riverside pitch and surroundings looking a picture it would be great to see a large crowd down to support the lads.
West Lancs Reserve Div 1
FULWOOD AMATEURS RES v GARSTANG RES KO 3PM
The Reserves begin their title defence with a tough trip to Fulwood. Pre-season has also gone well for the management team of Bailey and Curwen but their will be the usual combination of youth and experience once the first team requirements have been sorted. Although the youth team don't start until September they have been training with the seniors and this should prove invaluable as a number of them will be playing for the reserves this month to cover for lads still on holiday.
---
01.08.15
RESULT
Garstang XI 7 v 2 Bilsborrow (Jones Panepinto 3 Landless 3)
---
31.07.15
UPCOMING FIXTURE
Saturday 1st August
Garstang Res v Bilsborrow ko 4pm
Unfortunately the much anticipated game with Galgate tomorrow wont go ahead as Galgate were unable to raise a team so we are very grateful to Bilsborrow who have stepped in at short notice and the lads can have a last run out before the season starts in earnest on 8th August. Please note this is a 4pm kick off.
GARSTANG F.C. "SCORE" LOTTERY winners for JULY draw.
Num. 3705: - £1000 – Elizabeth Swarbrick, Garstang
Num. 3135: - £100 - Nora Singleton, Garstang
Num. 2742: - £60 - Janet Hall, Dolphinholme
Num. 3366: - £60 - Dan Sutcliffe, c/o Garstang F.C.
Num. 2033: - £60 - Bernard Blackledge, Cabus
Num. 4285: - £25 - Geoffrey Wilkinson, Garstang
Num. 1269: - £25 - Dave Rimmer, Garstang
Num. 2351: - £25 - Joanne Green, Cabus
Num. 4128: - £25 - A.J. McCrink, Churchtown
---
30.07.15
NEW TRAINING KIT
In order to avoid players training in all sorts of fancy dress, the club have obtained a massive deal from main club sponsor Cleveley Bridge Fisheries whereby a full training kit plus travel jacket and kit bag will be issued to all players signed on at the club. On top of that Citrosoft Ltd have sponsored new shirts to be worn with ties for the senior players along with joint sponsorship of the travel jackets. Full details of the sponsorships and pictures will be published in due course.
The kit will be available to the players at The Riverside clubhouse after training next Wednesday 5th August and as many players as possible are asked to attend to collect their goodies along with cash or cheque for the sum of £25 as a small contribution towards the cost. The bar will be open so we can make a bit of a social evening out of it.
---
26.07.15
RESULTS
Garstang 1 v 1 Holker Old Boys (Landless)
Garstang Res 3 v 2 Holker Old Boys Res (Shepherd, Panepinto, Hands)
New keeper Mike Donlon is welcomed to the Club by Chairman Adrian Wilding.
---
24.07.15
UPCOMING FIXTURES
Tomorrow (Sat 25th) we welcome Holker Old Boys, who play in the North West Counties League, to Garstang. The first teams will play at The Riverside at 3pm whilst the Reserves will play at The Beeches ko 2.30pm.
---
18.07.15
FRIENDLY RESULT
Garstang 5 v 2 AFC Fylde XI (Breslin 3, Graham, Landless)
Very good performance by Garstang against an AFC Fylde team comprising first, reserve and youth players. Liam Breslin bagged a hat trick, Max Landless made it two in two for him and Tom Graham chipped in with a quality goal but this was a good all round team showing and Manager, Neil Crossley, was well pleased with what he saw today.
---
17.07.15
YOUTH TEAM MANAGERIAL CHANGE
There has been a change in the managerial set up of the Garstang FC Youth team with Dave Porter taking the managers role and Dave Graham and Mike Bevan taking the Assistant Managers jobs.
Dave Porter
Outgoing manager Dave Graham explained "I brought Dave back into the youth set up at the beginning of the season and, as I hoped, he has brought a wealth of experience, knowledge and enthusiasm to pre-season training. The lads have all responded to him and I felt that for the best development of the players it was time to have new ideas. I wanted Dave to pick the team and decide on formations and tactics and, as such, to become the manager, I was delighted when he accepted."
Dave went on to say "Mike (Bevan) and I have been with some of the lads for a long time and both felt they would benefit from a new perspective. We are both going to continue as part of the youth management team and are fully committed to supporting Dave (Porter) and ensuring Garstang Youth develop players capable of playing adult football."
---
TRAINING GAME
Garstang Reserves take on the youth team tonight in a training game at The Riverside ko 7pm.
---
15.07.15
FRIENDLY RESULT
Garstang 1 v 2 Padiham (Landless)
Garstang Manager Neil Crossley must have been quietly pleased with the performance of the lads against opposition from 2 tiers above in a keenly contested game in which Max Landless opened his Riversiders account.
---
13.07.15
THE BOSS' UPDATE
Billinge F.C. pulled out of the pre-season friendly at Garstang on Saturday and despite Manager Crossley's efforts to replace the fixture he had to settle for another rigorous training session.
Neil said "Whilst I would have liked to have got a game under our belts it gave me more chance to get some time in with the lads on the training ground and I like what I'm seeing."
When asked about new signings the Manager said, "I'm still hopeful of bringing a couple more players in. The squad is good but any injuries or suspensions may make us a little thin on the ground in both 1st and 2nd Team Squads. I've also learnt that we will have to start the season without Danny McGahon who has had an operation on his toe this Summer and won't be able to resume training until well into August but with the experience of Gaz Louth who did a good job for me last season and the likes of the emerging Andrew Murphy then I'm not too worried"
FIXTURES: Following the game against Padiham on Wednesday 15th July ko 7pm, A.F.C. Fylde are the visitors to the Riverside on Saturday 18th July ko 3pm.
---
09.07.15
GAME OFF
The Billinge friendly on Saturday is off. Training for all squads now 10.15am this Saturday at The Beeches.
NEW SIGNING
GARSTANG FOOTBALL CLUB Manager Neil Crossley has made his second major signing of the summer season in the shape of 6' 3' striker Liam Breslin.
Neil said, "Liam had a good season with Slyne last season so I am delighted to have brought him to the Club. To have two six foot plus hard working strikers like Max (Landless) and Liam excites me"
The Manager went on to say, "I still need to bring in a couple more players but I'm pleased to say that the lads have come back in reasonable shape although we do have injuries to two players that are giving me cause for concern."
---
06.07.15
GARSTANG FOOTBALL CLUB'S pre-season gets underway on Saturday when the "Riversiders" welcome Cheshire League side Billinge to Garstang for the first of four games. On Wednesday 15th July Padiham visit the Riverside K.O. 7pm, before A.F.C. Fylde on Saturday 18th July then Holker Old Boys on Saturday 25th July. The league season kicks off on Saturday 8th August when Eagley are the visitors. Our newly crowned Reserve Team Champions start their campaign with the short trip to Fulwood Amateurs.
Although First Team Manager Neil Crossley has seen two of his summer targets sign elsewhere he is still optimistic of bringing in new faces to join new striker Max Landless who signed from Poulton Town earlier in the Summer.
The non appearance of Leon Gierke and Ryan Dodd at training would indicate that both players will not be returning to the Club.
The Manager was well pleased with a fifth place finish last season but wants to improve on that. "We have some good young lads coming through but I still need at least two experienced players to help me better last season's league position but I will not bring in players just for the sake of it, they have to be right for the Club"
NOTE: Garstang Football Club's A.G.M. will take place at the Farmers Arms on Wednesday 29th July Commencing at 7:30pm. All sponsors, advertisers and supporters are most welcome.
---
04.07.15
YOUTH LEAGUE
The leagues for the youth team who play in the Lancashire Sunday League have been published today. Garstang are in Youth Division Green and there are some very tasty fixtures coming up this season. Details of all the teams in our division are on the youth team fixtures page.
---
03.07.15
LOTTERY WINNER
Webmaster and Youth Team Manager Dave Graham is seen doing the honours presenting Gary Southwell with his £1000 cheque as first prize winner in June's "Score" Lottery draw.
There are nine prizes to be won every month: £1000, 1 x £100, 3 x £60 and 4 x £25. You've " GOT TO BE IN IT TO WIN IT" JUST RING Les Taylor on 07979 235 217 and he'll do the rest.
YOUTH TRIALS
Another session of youth trials tomorrow (Sat) 10.15am at The Beeches. Still chance to make the squad, just turn up or call Dave on 07501 119458 for more information.
---
02.07.15
GARSTANG FOOTBALL CLUB "SCORE" LOTTERY WINNERS JUNE DRAW
Num. – 3986: £1000 – Gary Southwell, Catterall
Num. – 1931: £100 - Chris Sweeney, London
Num, – 1419: £60 - Dave Wilding, Garstang
Num. – 4240: £60 - Andre Matichecchia, c/o Garstang F.C.
Num. – 3406: £60 - Elizabeth Boden, Catterall
Num. – 2204: £25 - Jack Clegg, Garstang
Num. – 2585: £25 - Malcolm Abraham, Pilling
Num. – 3977: £25 - Mrs. S. Bradford, Catterall
Num. – 3729: £25 - Bryan Fuce, Fleetwood
---
01.07.15
FRIENDLY RESULT
Garstang Res 4 v 2 Pilling (Lewis, Graham, Jack 2)
---
30.06.15
FRIENDLY PLUS TRAINING
The Reserves play Pilling in a friendly at The Beeches tomorrow (Wed 1st Jul) ko 7.30pm. The first team will continue with fitness training also at The Beeches tomorrow from 7.15pm. All squads will train at the same location on Saturday 4th July 10.15am.
---
28.06.15
FIXTURES OUT
West Lancs League fixtures for August have been sent out and as usual it's a very busy month with the First team having 7 games, 4 at home, 3 away. They begin their campaign on 8th August with a home game versus Eagley followed by the visit of Lostock St Gerards the following Wednesday for an evening kick off. The fixtures have been kind in that there are no trips out of the county, a trip to Blackpool Wren Rovers at the end of the month being the furthest we have to travel.
The Reserves begin the defence of their title with a tough game away at Fulwood Amateurs followed by a trip to local rivals Thornton Cleveleys. Three home games follow before ending the month at Leyland Utd. All the August fixtures are on the website fixtures page.
---
27.06.15
PRE SEASON TRAINING
Pre season training began today and the lads will sleep well tonight as they got some miles into their legs. August fixtures are on our fixtures page.
---
26.06.15
PRESENTATION NIGHT
The club held its annual Presentation Evening last Friday at The Wyrebank. It was a great event made all the more enjoyable with the Reserve squad receiving their Championship medals. Below are some pictures of the award winners.
Scott Hofstetter Youth Most Improved
Mark Bevan Youth Golden Boot and Players Player
Andrew Murphy Youth Managers Player
Ben Roberts Young Player of the Year
Allan Smith Veterans Player of the Year
Gaz Fawcett First Team Supporters Player of the Year
Matthew Bell First Team Players Player and Managers Player
Matty Poole First Team Golden Boot
Jack Swindlehurst Reserve Supporters and Players Player
Oscar Panepinto Golden Boot and Managers Player
Paul Bailey and Alec Curwen joint Clubmen of the Year
Reserve Championship Squad
---
24.06.15
FRIENDLY
GARSTANG YTH 3 v 1 NORTH LANCS AND DISTRICT DEVELOPMENT CENTRE
A good workout tonight with a chance to look at some lads who are on trial. A lot of blowing and puffing but 100% effort and for the record Bevan (pen), Hands and Walmsley scored for Garstang.
---
23.06.15
TRAINING
Senior training begins this Saturday (27th) 10.15am at The Beeches. Les will be there with a sample of the new training kit so you can get the right size so make the effort to attend. Further sessions are planned Wednesday 1st and 8th July 7pm and Saturday 4th July 10.15am. If you think you can play to a good standard you can come to these sessions and see how you get on.
AGM
I hereby give notice that the Annual General Meeting for Garstang Football Club for the Financial year ended 31st May 2015 will be held at The Farmers Arms on Wednesday 29th July 2015 commencing at 7:30pm. Members of the public are welcome to attend.
PRESENTATION NIGHT
A great night was had by all at the club presentation last Friday, more details to follow.
---
18.06.15
A RESERVE PLAYERS PERSPECTIVE OF 2014/15
The phrase nearly men had taunted a few of us players for a few years but now going into the start of this season we probably had the best bunch of lads we have had for years. Picking up a few free transfers in the summer transfer market Michael Shepherd, Joe Crook, Dre and Alex Hey there was no need for the Chairman to pull out the cheque book.
With players like Taylor, Ireland, Miller and Carlo coming into there prime and the SICK (which for people over 30 means good) skills and years and years and years and years of top quality experience from myself (Paul Southward) and Jonny we knew we had a good chance this season.
Well aware that were not known for winning starts to the season it was key to get a few wins early doors and with our first 4 tough fixtures away it didn't look good. But, after winning all 4, our confidence was through the roof. 6 games in to a great start to our season Swanny decided to swan off (great play with words Southward) and Bails and Alec were demoted to the 1st team (that's a joke).
After the Chairman looked at my managerial history of taking Torquay from the conference to the championship and Everton to a league and cup double (all on football manager) I was the obvious choice to take the seat bringing in my backroom staff of army we tried to keep the championship train in motion. Getting to the festive period with only 1 loss and 2 draws we were sat at the top of the tree like a star or an angel (another great play with words).
With the end of the season closing in we knew it was ours to throw away. The camaraderie in the changing room was great and there was some classic changing room bants. Not even a heavy loss to Hurst Green could bring us down. With a few postponed games in February and March we was made to wait a little longer for the inevitable. Going into April with an away fixture at Thornton the win would make the league ours. Some of the players had pre game nerves but with a little help from our 1st team friends and an outrageous decision to start me on the bench or great tactics to save me for the last 15 mins to steady the ship we eased to a 4-1 victory, the champagne was out.
We would have to wait until our home game against Thornton to get our hands on the trophy (which is actually a shield) and the celebrations went on into the early hours with The Farmers, which put up with a lot of s#*t throughout the season, having a really good nights takings.
It really was a great season and we PLAN to do it again coz if I've leant anything from Dan Curwen you always need A PLAN. I'll just give a few thanks to everyone behind the scenes at the club, Nic Panepinto for his match reports and the fact everybody now knows how to spell Oscar Panepinto ha ha!! Steve Burrows for being our 12th man and being the only guy who thinks we play an amazing offside trap! The two managers for everything they did even though 1 of them QUIT for 1 game then missed us that much he had to come back and finally to the team of lads who make every Saturday!! And yes I have written all this whilst sat in a toilet cubical at work. Thanks for taking the time to read this, I was only asked to write a few sentences but I got a bit carried away!
---
17.06.15
YOUTH TEAM
Next Youth Team trial is this Sunday (21st June) 11am at The Beeches. The squad is taking shape but there are still places up for grabs so get down there if you are interested. There will also be a trial game on Wednesday 24th ko 7pm. For further information contact Dave Graham on 07501 119458.
---
16.06.15
WEST LANCS LEAGUE PRESENTATION
Reserve bosses Paul Bailey and Alec Curwen along with The Chairman, members of the committee and partners attended The West Lancs League Annual Ball where the Reserve Division 1 shield was paraded at a glittering event enjoyed by all. There are more photos on our Facebook page. Don't forget this Friday, 19th June, is the Garstang FC Presentation night at The Wyrebank commencing 7.30pm.
---
10.06.15
PRESENTATION NIGHT
Club Presentation Night is Friday 19th June at The Wyrebank commencing 7.30pm. The presentations will be followed by a disco. Family, friends and supporters are welcome to attend what will be a really good night and celebrate last season's achievements.
---
---
09.06.15
YOUTH TEAM TRIAL
The next youth team trial is tomorrow, Wednesday 10th June, commencing 7pm at The Beeches training ground, Bowgreave Rise, Garstang. A further trial will take place at 11am on Sunday 21st June followed by a practice match on Wednesday 24th June. The squad for next season will be selected a few days after that game. Players must be over 15 and under 18 on 31st August 2015 to be eligible. Any further information contact Youth Manager, Dave Graham, on 07501 119458.
---
05.06.15
GARSTANG FOOTBALL CLUB: SEASON 2014-15 REVIEW
Extensive Ground work in the summer had initiated a request to The West Lancashire League for away games in the first month of the season, a decision that almost backfired.
After seven games, all played in August, only two points had been secured following draws at Lostock and Euxton Villa. Hard to take were narrow defeats at Thornton Cleveleys and Slyne followed by a less than flattering 6–3 score line at Wrens.
Meanwhile the Reserves had got off to a "flyer" winning both their games in August before going on to win their next four games culminating in a 2–0 victory over Leyland Utd on the 4th October.
A return to the Riverside for the First Team brought about the first win of the season, a comfortable 3–0 win over Fleetwood Hesketh, but the joy was short lived when a week later we were dumped out of the Lancashire Amateur Shield by Division 2 side Croston Sports on penalties. However, things picked up, a fine 1–2 win at Vickerstown then an even better 2–1 home win against top of the table Charnock Richard lifted spirits in the Garstang camp. That was until Manager Iain Swan announced his departure, preferring to join Kendal Town as assistant Manager.
The Reserve Team Management Team of Paul Bailey and Alec Curwen were asked to take temporary charge and they did so admirably overseeing a 5–1 home win over Thornton Cleveleys and draws at Coppull and Eagley.
The Reserves had suffered their first blip of the season, a 4–0 beating at Charnock but another four wins and a draw cemented their position at the top of the League by the end of November.
In the meantime the Committee were sifting through a quality list of applicants before eventually choosing former Bury, Morecambe and Accrington Stanley defender Neil Crossley who had picked up managerial experience at Lancaster City. Neil brought in Mark Thornley as his assistant.
Amid a number of postponements the good results continued with three wins and a draw before Christmas the highlight being a 2–1 over Wrens on the 6th December.
Despite going out of the Houston Cup at Leyland the Reserves continued to dominate the division losing only one more game at Hurst Green before securing club history and the Championship with a 1–4 win at Thornton Cleveleys and three games to spare. The achievement being all the more commendable having blooded in a number of Youth Team players including Assalone and Murphy who both also made their debut's for the First Team. The inclusions indicating a bright future for the Club.
The New Year hadn't started too well for the first team with defeats at Charnock Richard and then again at home to Vickerstown before going out of the Richardson Cup on penalties at Vickerstown. Two victories over Eagley and Hesketh Bank were followed by defeats at Burnley and Hesketh Bank at home. One of the highlights and probably the best performance of the season came on the 21st March, a 1–3 win at Longridge Town the goals coming from Fawcett, Crook and Bell. Two more wins in the last four games, the final game being a 1–0 win over Longridge Town, David Jack notching the winner in stoppage time completing a satisfactory fifth place finish for Manager Neil Crossley.
The Youth team were taken over by Dave Graham and Mike Bevan and following a large amount of local interest a squad of 19 was selected. The squad contained some quality players and throughout the season they produced exciting football having no problems scoring goals but occasionally committing football suicide at the back!
There were lots of memorable games, the highlight being the league cup quarter final at Lytham St Annes YMCA when having been 4-2 down with 7 minutes to play they came back to equalise in the last minute and go through to the semi-final on penalties.
Defeats to Southport in the semi and in the last game of the season to Thornton, denying us the runners up spot in the league, prevented a good season becoming a great one. However, 10 of the squad got at least a taste of adult football with the reserves and all of them played a part in the brilliant league title success.
CONGRATULATIONS! to everyone who contributed so much to a very successful 2014-15 season and making GARSTANG FOOTBALL CLUB what it is today
---
01.06.15
FIRST SUMMER SIGNING
Neil Crossley meets new signing Max Landless at The Riverside
Garstang Manager, Neil Crossley, has made his first signing of the summer with the capture of 6'4' striker Max Landless from West Lancs 1st Division team Poulton Town. Max, who scored 37 goals for Poulton last season, has previously played for Wyre Villa and North West Counties Premier League side Squires Gate. The new signing said, "It didn't take long for me to make my mind up to sign for Garstang F.C. after meeting up with Neil. I want to play at as high a level as possible and to join a club with ambitions is a bonus. I'm just looking forward to getting started now, I already know some of the lads in "Rocky" and "Jacko" so that will help me settle in quickly"
Neil said, " It's a good feeling to secure your first signing in the summer. We started a number of games without a recognised striker last season following the departure of "Pooley" and we never really replaced his goal input so I have challenged Max to come up with 15 to 20 goals this season. I'm confident after his haul last season that he will achieve that target." Neil went on to say, "I have spoken with a number of players and hope to have further strengthened the squad in the next 2/3 weeks"
---
For previous news click on relevant month on News menu
---
---